Award-Winning Voice Over Artists You Should Hire in 2023
Award-Winning Voice Over Artists You Should Hire in 2023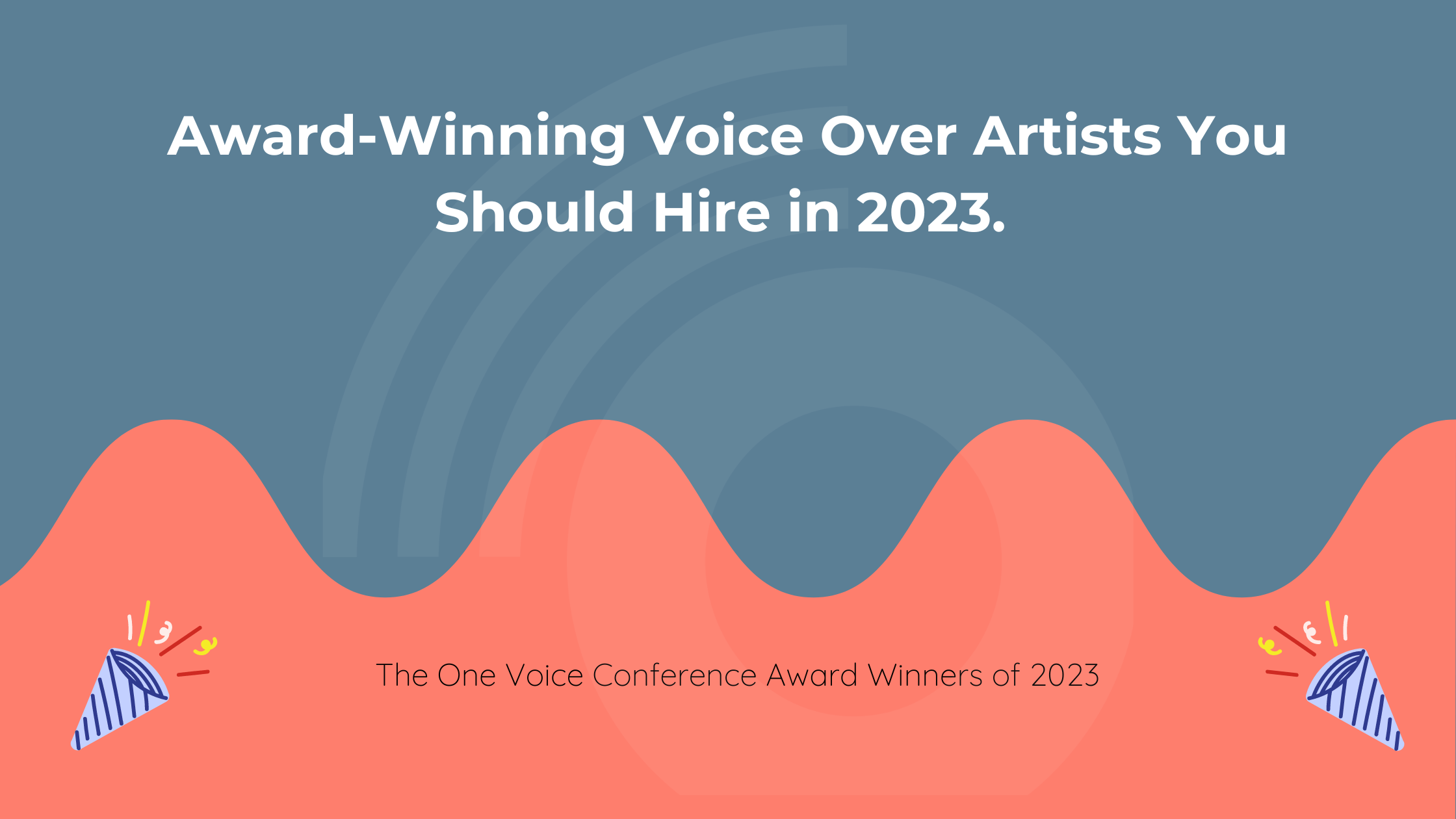 Are you seeking an exceptional voiceover talent that can charm the socks off any listener? Look no further! We're showcasing the crème de la crème of the UK's award-winning voiceover artists. These influencers are taking the voiceover world by storm in 2023, leaving no microphone unturned.
Get ready for this voice casting call to end all casting calls. These magnificent maestros of the microphone have turned voiceover acting into an art form. And they've done it all while gracefully balancing their coffee cups and script pages in tiny, cramped recording booths.
So, without further ado, let's dive headfirst into this list of the crème de la crème of voiceover artists you absolutely must hire this year (or risk being overshadowed by those who do).
Here's the list of this year's One Voice Conference Award Winners who are proudly represented by OutSpoken Voices:
1. Blanche Anderson - Best Overall Radio Promo
Blanche Anderson's warm, husky voice is a symphony that turns every script into a masterpiece. With a voiceover career spanning over a decade, she has transformed every voiceover job into a tour de force performance. Commercial work is her bread and butter and she can switch from Scottish (native) to RP quicker than a London cabby. Some of her big-name clients include Chromebook, BBC, Amazon, Asda and Royal Bank of Scotland.
2. Emma Topping – E-Learning Best Overall Performance
With a background in BBC and commercial radio and TV she's an elocutionist par excellence. Emma has the unique talent to turn any script into a magical narrative. She really "enjoys the projects that help make a difference, whether that's for health services, environmental issues or charities". Listening and adapting to feedback is her voice over super skill. She loves live-directed sessions and she's successfully delivered voice projects for Amazon, Google, Netflix, Microsoft, FedEx, and Virgin Atlantic to name just a few.
3. Ian Brannan – The Outtake Award of the Year
Ian Brannan's velvety voice is as irresistible as a warm cup of tea on a rainy day. He can switch from his native Yorkshire accent to a neutral English accent faster than you can say "Bob's your uncle". His rich, smooth tone can turn a mundane text into a riveting tale. He voiced projects for major brands including Asda, E.On in the UK, Lavazza, and was a worldwide voice for Booking.Com on some TV commercials.
4. Annie Warburton - Female Voiceover of the Year & Best Gaming Female
Annie Warburton is the aural artisan every voice casting call should have on speed dial. Her melodious voice can transform the dullest of scripts into an enthralling epic. Warburton's performances have been known to evoke standing ovations, even in the confines of a recording booth. She's voiced for Prada, EasyJet, Firefox, BMW x Google Android, Starbucks, David Jones, Bally, NHS, Warner Brothers & Barclays to name just a few.
5. Tiffany Clare – Best Radio Commercials
Tiffany Clare is the sonic storm you never saw coming. Her voice is as powerful and versatile as the British weather, and she can convey a whirlwind of emotions with a single line. Whether you need the gentle patter of rain or the boom of a thunderbolt, Clare can deliver. Her acting training makes her a very versatile voice artist. She's great at taking directions and she "loves collaborating and working together to build on a piece and make it the best it can possibly be." She's a voice for major brands like Vodadone, Mercedes-Benz, Pandora, Huawei, HubSpot & Barclays.
6. Leonie Schiesling- Best Female Audio Drama
Leonie Schiesling's voice is as versatile as a Swiss Army knife, effortlessly tackling three native languages (English, French & German). She can read and pronounce Spanish, Italian and Dutch and she specialises in European accents. With a background in marketing, she really understands "what different mediums require and how they need to sound, what makes a good script and which parts of it need to be emphasised." Leonie likes to have fun with the script and her acting skills allow her to get into character for any voice over project. That's probably why big brands like Mercedes-Benz, Amazon, HSBC, Oreo and Smarties, and Ubisoft trusted her to be their voice.
And there you have it! The award-winning voiceover artists of 2023, all proudly represented by OutSpoken Voices Agency. These vocal virtuosos will elevate your project to stratospheric heights, making your content sparkle like the London skyline.
Don't forget, the right voice can make or break your project. So, why settle for a humdrum performance when you can have the best? To book these professional award-winning voice actors for your next project, please head to our website or contact our friendly agent at justyna@outspokenvoices.com.