Behind the Mic: Exploring the World of Audiobook Narration with a Voice Over Artist, Lisa Armytage
Behind the Mic: Exploring the World of Audiobook Narration with a Voice Over Artist, Lisa Armytage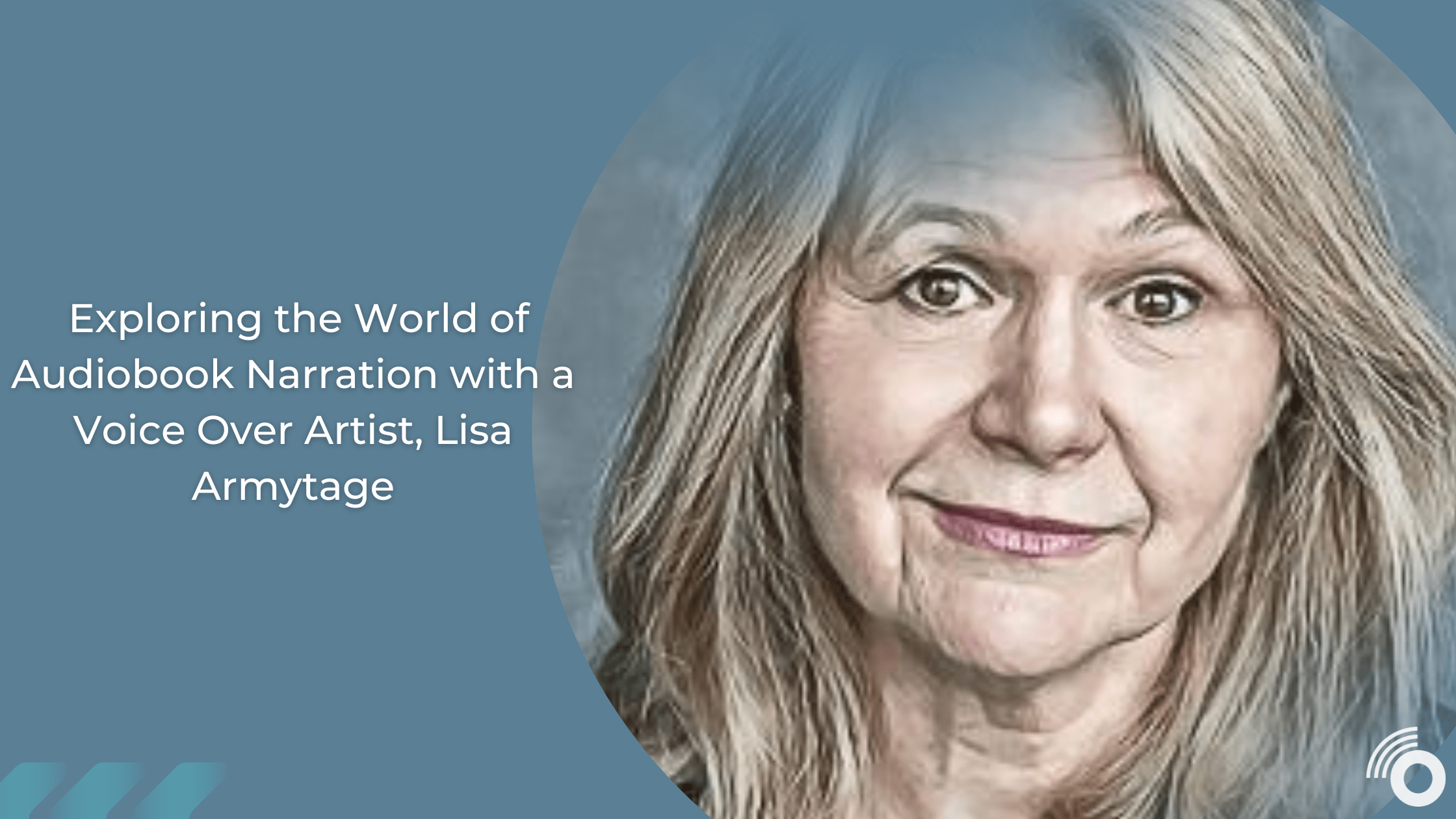 In the captivating realm of audiobooks, where stories come to life through the power of narration, one voice stands out among the rest—Lisa Armytage. With her exceptional talent and extensive experience as an actor, Lisa has carved a niche for herself as a highly acclaimed audiobook narrator and voice actor. Let's delve into the fascinating journey of this voice over artist, who brings words to life with her mesmerizing voice.
Lisa Armytage's passion for acting blossomed early on, leading her to pursue formal training at the very prestigious The Guildhall School of Music and Drama in London. Equipped with her newly acquired skills, she embarked on a journey that would take her across continents. Lisa eventually settled in Australia, where her talent flourished on both the small and big screens.
There Lisa was best known for her role as Dr Beverley Marshall in the Aussie soap, 'Neighbours', and the lead female role in the Australian romantic movie 'Cool Change'. Her acting abilities shone through in various TV productions such as 'The Lancaster-Miller Affair,' 'Miraculous Mellops,' and guest appearances in renowned shows like 'Cop Shop,' 'Cell Block H,' 'The Flying Doctors,' and 'Police Rescue 2.'
After returning to the UK in 2003, Lisa Armytage redirected her focus towards theatre, immersing herself in captivating stage performances. However, it was her transition into the world of audiobook narration and voice acting that truly allowed her talent to shine.
Lisa's mastery of the spoken word has made her a sought-after narrator across a wide range of genres. From heartfelt dramas to gripping mysteries, her voice effortlessly draws listeners into the world of the stories she narrates. In addition to her work on audiobooks, Lisa lends her voice to commercials and corporate videos, showcasing her versatility as a voice actor.
Her collaboration with renowned authors has further solidified Lisa's position as an esteemed narrator. She has recently completed her third audiobook for best-selling British-Australian novelist Anna Jacobs and has lent her voice to four books by Australian author Alison Booth. Lisa is working on 'The Midlife Trilogy' by British-Swedish author Cary J Hansson. Beyond audiobooks, Lisa has also showcased her talent in animations and podcast dramas, including 'From an Island' and 'Riverside.'
Harper Collins has just released her latest project, the multi-cast audiobook 'Murder in the Family,' on the 20th of July. This gripping production promises to captivate listeners with its immersive storytelling and exceptional performances.
To gain deeper insight into Lisa Armytage's experiences and expertise in the world of audiobook narration, we've asked her a few questions that shed light on her journey and craft:
How did you become involved in the world of audiobook narration, and what drew you to this specific form of voice-over work?
While I was living in Australia, I approached independent studios to explore work as a voice actor. Way back in 1998 I came across Classroom Video, a company which has now blossomed in the UK, and I began recording character voices for their animated chemistry videos, and I also narrated some children's story books. This lit up my interest in narrating, and later, after returning to the UK, I auditioned for Ian Skillicorn, a producer and entrepreneur then just venturing out into the world of short stories with the online platform ShortStoryRadio.com, (which has since morphed into The Story Player). I began recording with Ian in 2006. Two full length audiobooks with AudioGo Ltd, (the home of BBC Audio) and seventeen short stories later, in 2017I ventured into full-length audiobooks from my own studio.
I love creating characters. The world of TV and film is fascinating, but casting so often relies on your perceived "type". In audiobooks, I found the freedom to be all ages and every kind of personality. I also enjoy writing and producing audiobooks with independent authors. It has given me the opportunity to connect with and support authors.
You can still listen to one of my early short stories here:
https://www.thestoryplayer.com/listen-to-the-canary-by-katherine-mansfield/
Can you share some insights into the process of preparing for an audiobook narration?
Whether I am recording from home, or with a studio such as ID Audio or Ulverscroft, I allow myself plenty of time to "prep" a book before going into the recording booth. I read the text carefully, taking brief notes on each character – who they are, their relationships to others, and any clues to their speech pattern or accent. In the past year that's included Scottish, Geordie (Newcastle), Polish and Greek.
You can listen to a Tea Set sample on audible.
Fortunately, I studied phonetics as part of Linguistics, (an element of my B.A. at Macquarie University, Sydney). I've found that so useful, from making quick notes on how to pronounce an English word to listening to online clips of native speakers talking in English and identifying their key sounds to capture their accents.
On first read, I highlight any words or dialogue which need more attention, and then scan through once more to sort out pronunciation. iAnnotate is so useful. After I've saved the manuscript to my Dropbox, I open it in iAnnotate, and then insert pronunciation clips in the margin of the text.
How do you approach understanding the characters and bringing the story to life?
Some authors write with keen sense of what they hear, others are more focused on what they see. Both give clues to the character and so to their voice. Are they strong and direct, soft and supportive, energised, exhausted, or angry? These can be underlying qualities that help me to find their voice. This is particularly important where the characters all share the same accent. For example, in Cary J Hansson's 'Midlife Trilogy', the three main characters all share the same middle-class English accent, but their voices must be distinctly different. The outspoken Helen tends to speak in my own voice, the wise, loving and forever giving Kay has a breathy, almost apologetic quality, while Caro, a businesswoman who transforms her life in middle age, has shaken off her working class, West Country roots, and speaks in a deep, assured manner.
What role do you believe the narrator plays in creating an immersive and engaging experience for the listeners?
As the narrator my vocal quality reflects the story. I try not to be too intrusive, but nevertheless, I really feel and understand what I am saying. I think this is so important. I cannot imagine how AI voices can ever truly replace quality narration. If the words don't go through my understanding and my feelings, then I don't think they can enter the understanding or feelings of the listener either.
How do you capture their attention and keep them captivated throughout the audiobook?
As the narrator, I am fully involved in what I am reading. If for a moment I lose focus, I stop what I am doing and take a break. If it's no longer enjoyable for me, then I don't think I can hope to take the listener with me.
How has the demand for audiobook narrators evolved over the years?
The demand for audiobooks has grown exponentially. www.grandviewresearch.com states that "the global audiobooks market size was valued at USD 5,364.9 million in 2022 and is expected to expand at a CAGR (compound annual growth rate) of 26.3% from 2023 to 2030".
So many adults are finding that audiobooks can be accessed now in different ways, particularly with the ubiquitous iphone, but parents are also recognising the value of audiobooks for children. Whereas TV and screens tend to make our ability to focus short-term, audiobooks offer kids the chance to painlessly improve their vocabulary and improve visualisation skills, when, as far as they're concerned, they are just enjoying themselves! And parents are recognising this. It's anticipated that the kids' segment is likely to account for the fastest growth, registering a CAGR of around 28.9% from 2023 to 2030. (www.grandviewresearch.com).
Can you share any memorable experiences or interesting anecdotes from your audiobook narration journey?
These days audiobooks and audio dramas are starting to blend into each other. Earlier this year, I went down to London to ID Audio, to join four other actors in recording 'Murder in the Family' by hugely popular crime writer Cara Hunter. We were a little nervous when we discovered one morning that Cara had appeared, escorted by one of the agents from Harper Collins. She sat in while we launched into the recording. Happily, she loved it, and we've all been invited to the launch in London in late July. https://www.audible.co.uk/pd/Murder-in-the-Family-Audiobook
Is there a particular audiobook that holds a special place in your heart?
To be honest, I am particularly impressed by the book I am currently narrating: A Midlife Gamble, by Cary J Hansson. As an actor, this book has really put me through my paces – it has a huge emotional arc as it concludes the journey of the three main characters in 'The Midlife Trilogy', (it follows on from A Midlife Holiday and A Midlife Baby.) As a reader, I found the characters very perceptively written, while the topics covered are those not usually dealt with in popular fiction; that is, the changes a woman faces in middle age. In fact, the changes we all face: re-evaluating our partnerships and family lives, or lack of family life; dealing with ageing parents; re-discovering our true selves on our own terms, and finally, the spectre of ill-health and death – our own, or those we love. I've found it challenging and at times an emotional roller-coaster, but I would thoroughly recommend it to either read or listen to. It balances drama with comedy. It's a book that draws you in.
Purely as a listener, I'm currently listening to City of Girls by Elizabeth Gilbert, (Eat, Pray, Love), narrated with the lightest of touches and a great sense of humour and character, by Blair Brown.
What advice would you give to aspiring voice over artists who are interested in pursuing a career in audiobook narration?
Honestly, I think the only way you will discover whether this is for you is to try it. It is a genre that is demanding vocally and mentally. It can also be deeply rewarding if you are selective about what you narrate and avoid things you honestly know would bore you or make you feel uncomfortable.
It takes some time to relax into long-form narration, so that your voice is not tired by it. But the more you can relax and be absorbed in the narrative, the more your voice will take care of itself. Having said that, I am careful to prepare by being well-hydrated before I start recording and make sure I do an adequate vocal warm-up. I will take breaks after every hour and a half or so, and I've recently discovered straw phonation. This is a gentle way of warming up which you can use to prepare for the session or to ease your voice if it becomes tired during a long session.
And finally, I'm just coming out of my booth to discover what a wonderfully warm and supportive community the audiobook narrators are. Find ways to connect!
Are there any specific skills or qualities that are crucial for success in this field?
I'd say the first and main quality is to love the books you're narrating. And there is so much diversity! The range is endless. I don't yet have a "niche" area. So far, I have loved recording light romance, modern fiction, crime, non-fiction, comedy and drama by both British and Australian authors. The unexpected quality of the work, and the reading genres it opens to me, are part of what I love about it. Having a good ear for accents is also a tremendous asset.
Lastly, in your opinion, what makes audiobooks such a beloved medium for readers?
The author gives so much. Without them, we have nothing, of course. But a dedicated narrator can create a whole other dimension to a book. I love the surprise I get when a narrator suddenly switches from their own voice to a totally different character.
Audiobooks also make "reading" so much more accessible. Out walking, doing housework or routine tasks, travelling. Suddenly all these areas of "down-time" become so much more relaxing, entertaining, and informative, because of the addition of an audiobook.
To discover more about Lisa Armytage and explore her incredible body of work, you can visit Lisa's profile and find her narrations on her Audible page as a narrator: Lisa's Audible Page as a Narrator.
Lisa Armytage's unwavering dedication and unparalleled talent have made her an invaluable presence in the world of audiobook narration. With her ability to breathe life into characters and transport listeners to different worlds, she continues to leave an indelible mark on the hearts of those who embark on the audio adventures she brings to life.