Best Voice Over Software and Tools
Best Voice Over Software and Tools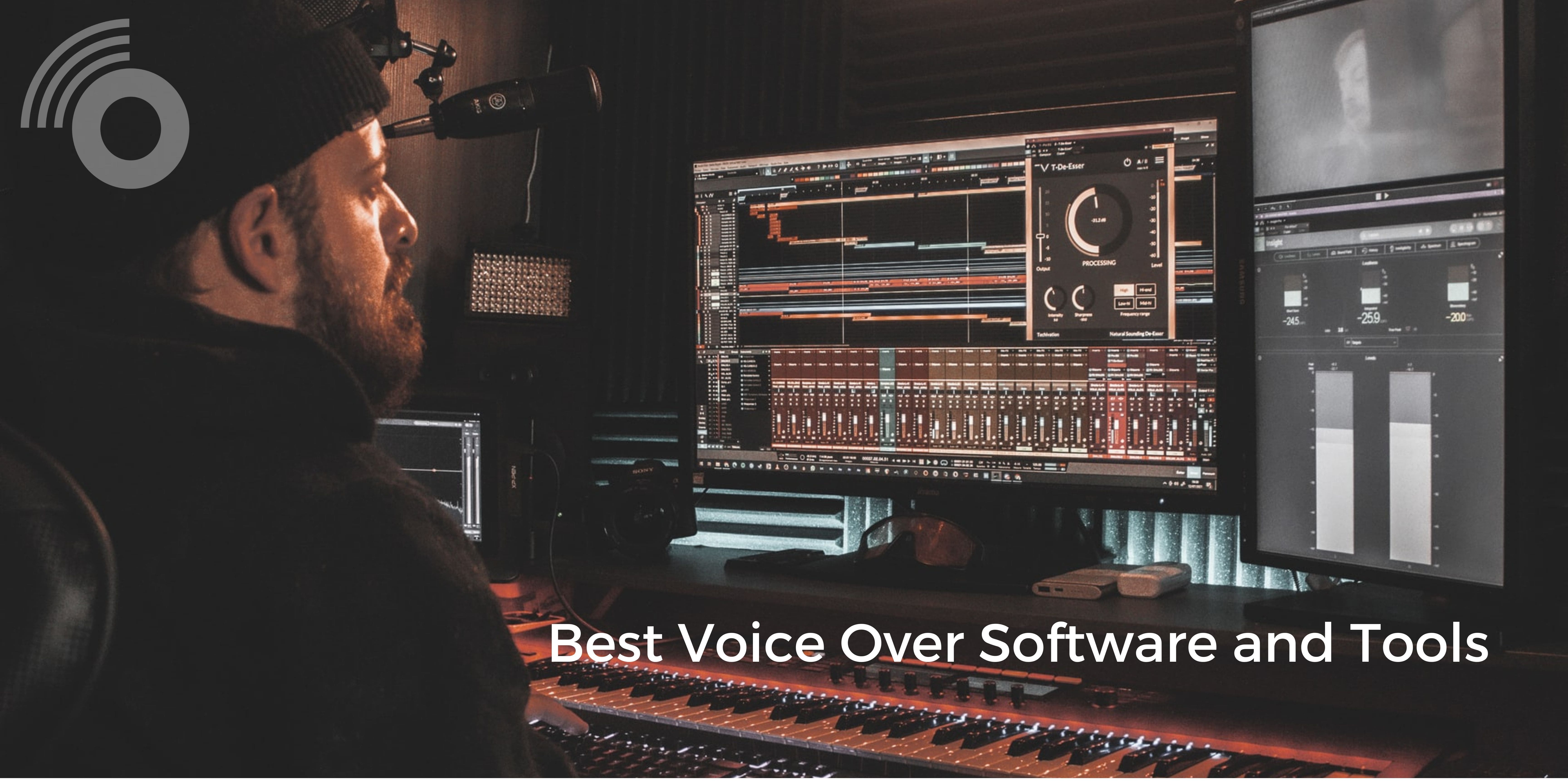 Gone are the days of needing a full recording studio and a load of outboard equipment to record your voice over. Technology has reached the stage where most of us can create a decent recording on our laptops or phones, and if we arm ourselves with the right software and tools, we can create professional recordings.
These software solutions can be the ideal partner for your home studio.
Read on to explore the very best in voice over recording software and other digital tools that can help you nail your recordings from home.
Voice Over Recording Software:
Logic Pro
Logic may only be available on Mac, but it is still often perceived as industry-standard for recording audio of all kinds, including voice overs.
If you have an Apple device such as an iPhone or iPad, you get GarageBand already installed, which can be considered a "light" version of Logic.
The software has a lot of presets and is relatively simple to set up an audio recording, so even if you aren't an audio expert you can create something professional. There's also a lot of support on YouTube and through Apple's guidebook so you won't get too lost.
Adobe Audition
Adobe Audition is a good option for those already paying for Adobe software. While a lot of audio programs focus on producing music and using virtual instruments, Audition centers around recorded audio files, rather than MIDI.
The Essential Sound panel allows you to "achieve professional-quality audio — even if you're not a professional."
Once you get more stuck into the controls, you'll find that there are plenty of effects and editing tools to give you even more power to create a great end result.
Reaper
Reaper is a software that works on both Mac and Windows. It's not as well-known as some of the other best voice over software options, but it has flexible and affordable pricing. It's also easy to add on effects using "VSTs" and other plugins.
In spite of the lower price tag, it is more than possible to get pro results.
Voice Over Audio Tools
The following are tools, including plugins, that don't necessarily work as standalone pieces of software. Combined with a good microphone and your "DAW" these tools can take your audio from good to great.
EQ
An EQ is an Equalizer. It allows you to tweak the frequencies of your recording, and has many benefits for recording voices. Not only can you help to roll off sounds that have the proximity effect, but you can also roll off some unwanted bass frequencies or unwanted mic effects.
Examples of EQ plugins: Waves PuigTec EQP-1A, UAD Pultec EQP-1A
Compressors
A compressor is usually vital on any kind of vocal recording. They are used to lower the track's dynamic range. This means less of a difference between the quietest and loudest sounds. A voice over that has some really loud parts and really quiet parts sounds unprofessional. Our ears are used to hearing compressed and clean audio.
Logic Pro, the software mentioned above, has some very powerful compressors and EQ tools built in, which can save you some money.
Examples of Compressor plugins: CLA 2A from Waves.
Other Voice Over Tools
Scripting - Final Draft
Do you have a long voice over script? Perhaps you have a few minutes of narration or multiple characters. It may prove a worthy investment to tie this all up in a professional way, using software like Final Draft. This software is an industry-standard and voice over artists are used to the scripts it creates. It allows for easy collaboration and streamlined editing, even if you are working as a team.
Productivity - Basecamp
If you're managing a team, or if you are just looking to stay super organized when creating your voice over project, project management software such as Basecamp can be a great way to do so.
Basecamp supports documents and file storage, schedules and to-do lists, group chats, even client access. It's a great tool for the more organized voice over artists.
File Sharing and Collaboration - Google Workspace
Let's not underestimate the power of Google Workspace. It allows for easy collaboration, document sharing and storing, and even its own set of project management tools.
For a one-off patent with a lot of different software solutions for your work, Workspace is recommended.
Conclusion - Choosing Voice Over Software for You
The software you choose will depend on a number of factors, including whether you are looking to bootstrap your way to a successful voice over career, or you've got plenty of budget to throw at creating professional audio. In truth, a bit of simple research will go an awfully long way when it comes to sounding professional.