How to Break Into Voice Overs
How to Break Into Voice Overs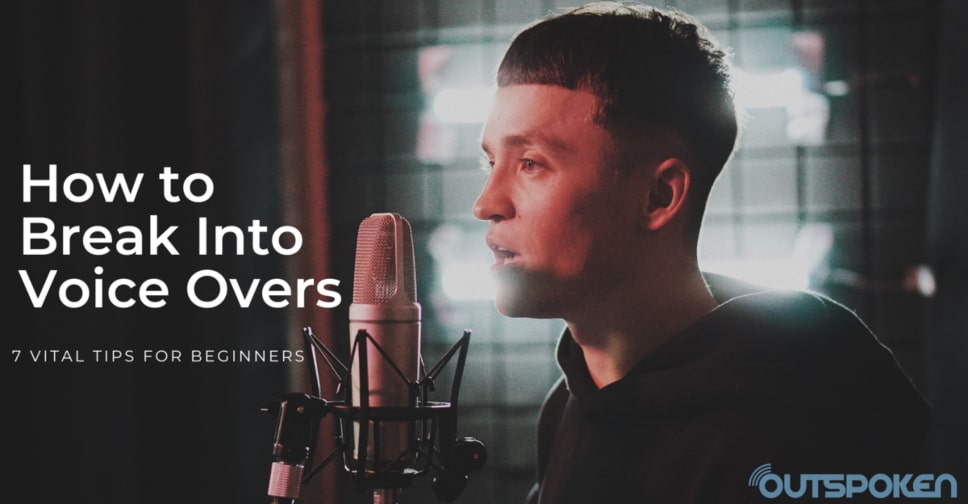 How to Break Into Voice Overs - 7 Vital Steps
Fancy yourself as one of the best new voice talents? Perhaps you've got a natural gift for accents or interesting voices and your friends have told you to look for a voice-over job. Maybe you're already an actor looking to branch out into this niche. We explore how to break into voiceovers in this guide.
There's room in the voice-over industry for loads of different styles and skill sets, but it isn't the easiest career to get into. It's not as simple as just searching for a job listing and getting started. Let's dive into some steps you can take to boost your chances of getting into the voice acting industry.
1. Improve Your Acting Skills
We could create a whole guide on this step alone. If you are already a full-time actor or have some experience in the voice-over industry then you may have a baseline level of skill already, but there is always the chance to improve your skills.
Although voiceover artists often focus on one specific area of acting, all of the skills you can build by joining drama groups and taking courses are transferable. That's why so many professional actors you're used to seeing on screen can also be heard voicing characters in video games and TV commercials.
Take every opportunity you can to boost your acting skills and get involved with plays, independent movies, and take classes.
2. Learn From The Best
The best approach is to get training from renowned professional voice coaches. You can access these courses online or even work one-to-one with coaches to hone your craft. Check out Gravy for the Brain, a service that has helped 55,000 people with ambitions to become voice over artists. There are also voice over podcasts you can listen to.
Learning can also be an excuse to watch TV and movies or to play some video games.
In order to learn from the best out there, watching things where voice-over artists nail their craft is a great exercise. There are so many examples of this among animated shows, movies, and games.
Ensure you make notes where possible. For example, pay close attention to how lines are delivered, the timing, the tone, and the use (or lack) of silence.
3. Create a Demo Reel
In truth, your chances of getting hired for a voice-over job are virtually zero if you are not able to show what you can do. It's time to create a demo reel to send out to potential clients.
Your demo reel doesn't have to be work you have done professionally for others (although it can), and there are many opportunities to create recordings simply to show what you can do. For instance, some voice-over artists come up with their own lines for commercials and record them to show what they can do.
Whether you choose to write your own scripts or hire someone to do it for you, you should always have a voice demo done professionally. There are a lot of places that offer voice demo creation services. A simple Google search will help you find professionals in this field in your area.
4. Apply and Audition For Voice Over Work
Time to go looking for jobs. Armed with your resume and demo reel, you can show casting directors what you can do, and look for jobs that you feel you would be a good fit for.
Once you've worked with students and charities to gain experience and created a quality demo reel, you can start applying to be listed on online platforms like OutSpoken Voices, and write to voice agencies to try and get exclusive representation.
Even the best actors and voiceover artists do not get offered every job, so don't get disheartened if you don't immediately get a gig you wanted. Voice acting careers take time to build.
5. Promote Your Services Online
As well as using specific platforms such as OutSpoken Voices, you can make use of your existing networks and other places to promote your services. It pays to have your own website, and profiles and pages on social media explaining what you do and showing off your demo reel. You never know who is going to be watching.
A lot of voice over artists also make a point of showing what they can do on YouTube and create profiles on LinkedIn, to boost the chances of showing up for searches.
Of course, using voice over job boards can be a much more effective use of your time if you are looking into how to break into voice-overs. It ensures you are marketing your services to the relevant decision-makers in the voice-over industry.
For more information, check out our full guide to marketing your voice over services.
6. Get The Right Recording Equipment (and Learn How to Use It)
You probably don't have access to a recording studio and an engineer. However, to stand a chance of building a career in the voice over business you must be able to record crystal-clear audio of your voice.
Luckily, recording your voice to a high standard requires less equipment than ever before. You can even get your hands on high-end USB microphones that are able to do the job. A number of voice-over artists use the Blue Yeti microphone, especially when starting out. If you don't use a USB model, you will need an audio interface to connect to your computer.
Other items that can help you greatly include vocal isolation booths to avoid other sounds bleeding into your recordings, and pop filters to reduce the "pop sounds" and sibilance of your voice.
You can check out our full guide to creating a home studio for more information on equipment.
7. Build Your Home Studio Setup
It's great if you have a portable setup and can get a microphone out and record pretty much anywhere, but this step is all about having a workstation that you can use to maximize your technical skills and get the best results.
To set up your studio and create the ideal home for your equipment, consider the location, and most importantly, the acoustics. If you're using your home, don't set up your recording equipment near a window where you get a lot of traffic noise, or a room with a noisy air conditioning unit.
If you have the space to install some acoustic panels, this can also greatly help to soak up reverberations and give you a clean and clear recording of your voice.
Time to turn the spare room into a home recording studio?
Summary
There are many different routes into a career in voiceovers. Usually, every individual follows a slightly different path to get there. That said, following our tips to break into the industry can help to maximize your skills, and your chances to land your dream role.