The Voice Over in Personalised Audio: Our Interview With Kim Aspeling
The Voice Over in Personalised Audio: Our Interview With Kim Aspeling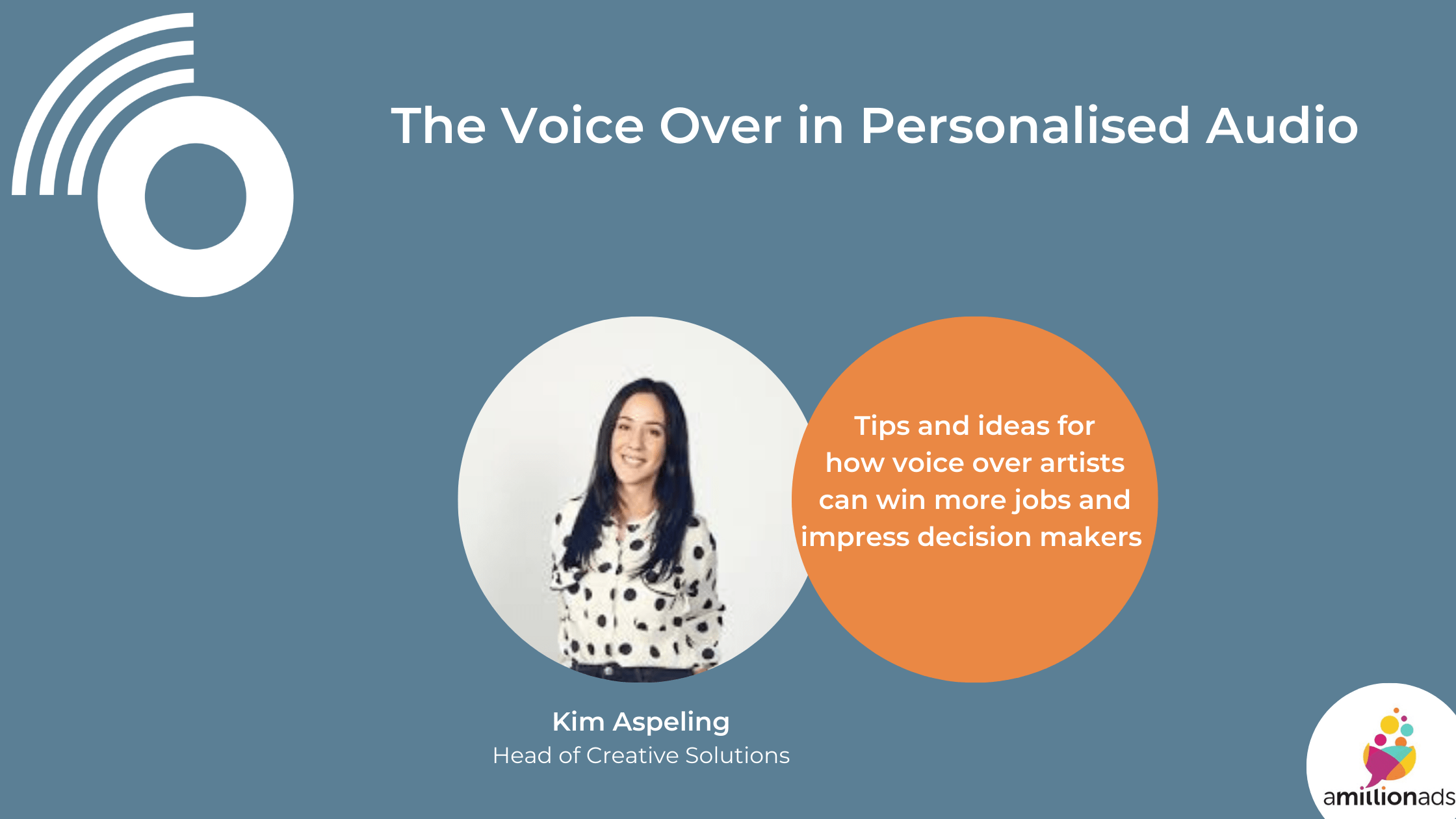 We were recently lucky enough to speak with Kim Aspeling, a creative powerhouse and Head of Creative Solutions at A Million Ads. Known for her outside-the-box campaigns and storytelling prowess, she is a true inspiration for voice students and seasoned professionals alike. From her humble start as an air hostess to her current role defining dynamic advertising creative, her wisdom and experience in the industry are valuable resources.
In this interview, Kim shares her thoughts on personalisation in advertising, her auditioning process, how her work has changed during Covid, and what she looks for when hiring a voice over artist. Read ahead for her insight, and a few surprising tips that will help anyone in the voice over industry.
If you're looking for ways to win more jobs or learn what the decision-makers are really looking for, this is a must-read.
Justyna M: How did you get into the business?
Kim Aspeling: My background is in Dramatic Arts. While I was studying for my diploma in South Africa, I fell in love with audio and voice, because it allows you so much more freedom to perform and truly embody characters that are so different to who you are.
I then decided to move to the UK. After a short stint as an Air Hostess (yes, you read that right), I started working as an assistant at a voiceover agency, which was my gateway into advertising and audio. I worked my way up to become a Voice Agent, and then decided to move into the world of production and reversioning. During this phase, I found my love for the casting and copywriting side of advertising, so I did producing and casting at a recording studio until I finally found my way to A Million Ads. Here, I was able to use my experience in all of these fields to help fellow creatives and brands use personalisation to create award-winning audio and video campaigns.
JM: Why do you think personalisation is the key to future advertising?
KA: With what we know about human nature and evolution, we know that resonance is the way to grab attention and impact consumer decision-making, be that on a subconscious or conscious level. We do this by telling a more compelling creative story through ads that are personalised to the consumer and cut through the noise.
Imagine a sweltering hot bank holiday weekend ad that mentions barbeques, or an ad on a cosy rainy Sunday that talks about a roast dripping with gravy. These ads tap into the customer's emotions, how they are feeling at that time, what they are into, what time of the year it is, and what device they are listening on, and provides them with an ad that is not just useful but engaging.
Brands are starting to understand this. They're incorporating personalisation and creative strategies in their media. All of a sudden, creatives are allowed so much more freedom with personalisation. Being able to match products and offers to audiences or contexts means saving space on terms and conditions, and this allows more room for creative storytelling. Plus, switching lines on and off in live campaigns means that in an uncertain future due to COVID, we can still be agile and extremely reactive.
So, if personalisation allows more reactive campaigns and stronger creative with higher engagement, then the one thing we do know for certain about the future is that personalisation is here to stay.
JM: What's the casting process for your projects/sessions?
KA: On top of the usual casting process of finding a voice that is best suited to the creative brief, with dynamic creative, we need to consider two other attributes.
The first is whether the voice over artist has the longevity and focus to record long-form audio. So, we're looking for someone who has experience in recording narration or audiobooks. For example, we often have something like an automotive client who wants to call out hundreds of dealerships.
The second is whether a voice over artist has a home studio. Not only because studios are a little trickier to record in during the pandemic, but also because the ad can change on the fly. It's ideal to have a VO who can quickly record a variation, like a price drop on a Black Friday campaign. This allows us the flexibility to keep ads current and not rely on pre-determined outcomes at the start of the recording session.
JM: What are you looking for in a voice over artist?
KA: When we see lines, our brains will naturally begin to read things as if they were a list, changing the intonation with every sentence. With dynamic recordings, we need to switch the way we record, and instead repeat the same intonation for every line in the list.
Some voiceovers may find this tricky to manoeuvre, and can also be put off by seeing a script with 300 locations. Thus, when looking for a voice over artist, it's important to find someone who is adaptable, can mimic intonation, and who takes direction well. Most importantly, we are looking for someone who has consistent energy throughout the session and, along with the VO director, notices when the energy dips and record a pick-up line if needed. Other than that, a warm and friendly attitude is always welcome, especially with the lengthier sessions!
JM: How was your industry affected by Covid?
KA: At the start of Covid, all media spend stopped. Advertisers, like the rest of us, were awaiting further instruction. 'What was to come?' 'What was the best way to speak to consumers?' 'What message should they use?' Gradually, as some of these answers became clearer, we saw advertisers start spending again, but the copy had changed. The tone had changed.
Flexibility and reactiveness became more and more important. At A Million Ads, we found that personalisation became even more key for marketers. We had success because of the agility of our platform, which allowed us to switch lines on and off during a live campaign and talk to consumers on a level that resonated.
JM: How do you run your voice over sessions now?
KA: With our voice sessions now, we dial into either the recording studio (where the VO is socially distanced from the engineer) or from their home studio set-up.
There are always multiple people on the call - the sound engineer, the voice over artist, the clients, and us. It all requires a high-quality connection and clarity on specs and processes, all key for a successful VO session. We always share relevant documents in advance and ensure everyone understands the running order and who is responsible for what. We also time all of our scripts to avoid any rewriting during the session, which can get very messy with so many people on the call.
JM: How did you adapt?
KA: Human behaviour has changed during Covid. Everything people used to do Monday to Sunday has changed, and the ads had to change to reflect this.
Personally, I had to get used to a brand-new way of pitching and building client relationships across a virtual environment. I learned new ways to connect and to engage with clients, which would usually all be done in person.
Voice over artists with home studios became so much more important, as did learning how to direct talent over a call and ensuring that all deliverables from the VO were the right spec. Suddenly, there was a lot more coordination with different parties, studios, clients, and voiceovers, who would all usually be in the same room.
But as with anything, we worked around this and learned new ways and processes to help with the situation. I actually became even more productive, because I no longer had to travel to different meetings or the recording studio! I have bonded with my husband and gotten to share my professional side with him (he finally understands what I do!). I hope to carry over some of these good habits into the 'new normal', while perhaps trying to establish a bit more of a divide between work and home life.
Wise advice for all of us in the industry – work/life balance is more important than ever! What do you think of Kim Aspeling's advice and experiences throughout Covid? Share your thoughts in the comment section, and let's continue this conversation.