Voice Artist Rates: How Do They Work?
Voice Artist Rates: How Do They Work?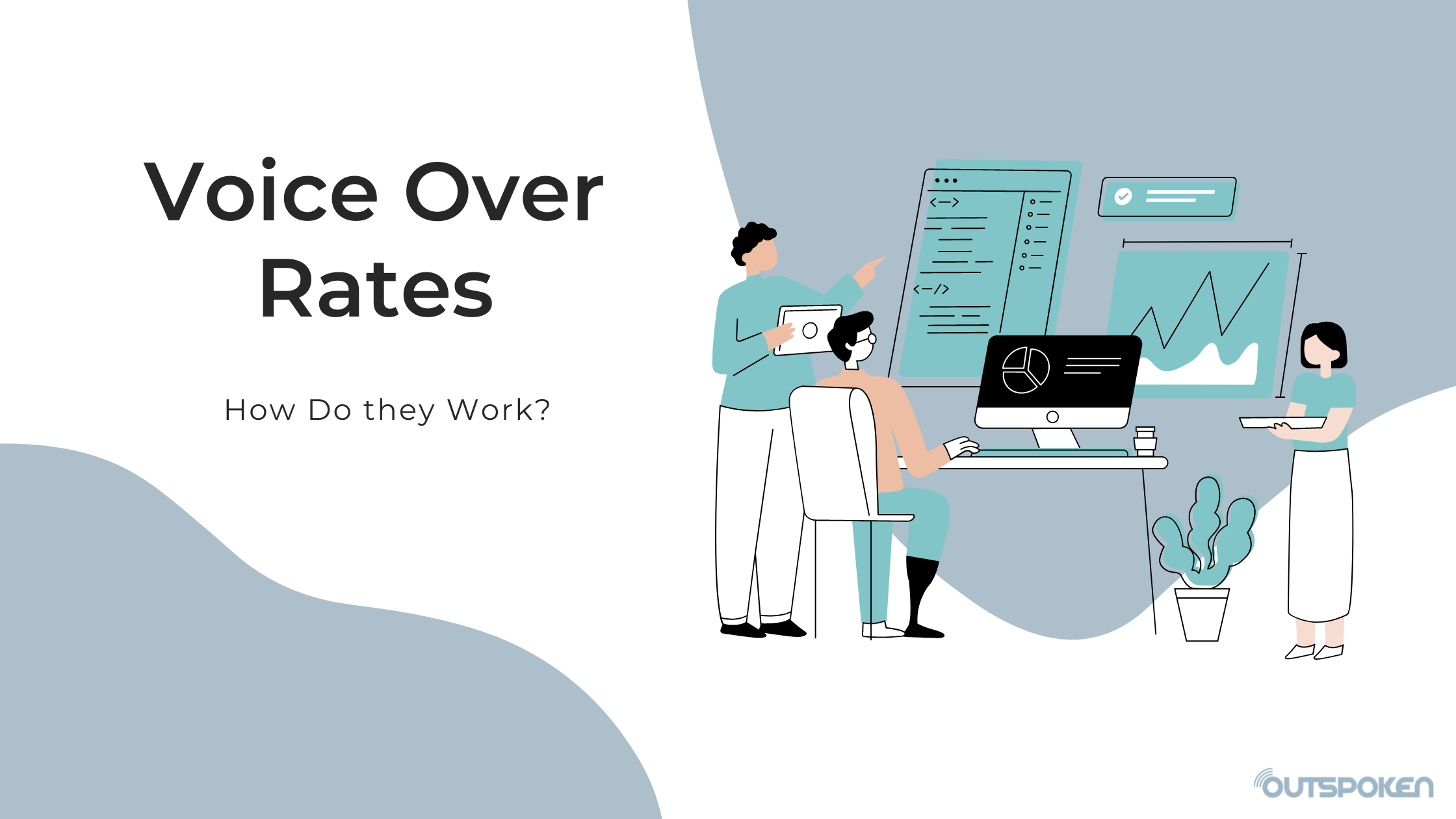 Voice artist rates can be difficult to figure out, both for artists and clients. Artists may not be sure how to calculate their rates and clients may not understand the factors that are involved when seeking quotes.
This article is designed to clear up that confusion! We will give an explainer on how voice artist rates work in general, the factors that can affect them, and what info they'll need to have to ensure an accurate quote.
How Do

Voice Artist

Rates Work?
Many new clients expect for a voice artist to charge per word. After all, it takes an artist the same amount of time to read a hundred words, whether it's for an advert or an audiobook. But just as you need rights to use a piece of music in a project, you also need the right to use an artist's voice. This is called the usage. Usage can vary depending on the type of project and the places that the recording will be used.
Below we have broken down some of the types of voiceover work and factors to keep in mind when considering voice artist rates for them.
1. Corporate and Commercial Recordings
For the majority of corporate and commercial work, you can expect there to be an hourly fee (or a fee based on word count) and a usage fee, which will depend on the platforms the recording will be used on.
When looking at a rate card, or asking for a quote, it's important to know how many scripts there will be, on what platforms it will be used, and for how long. If the recording is going to be used online, you will need to know whether that will be organic (posted to an account or website and shared in the ordinary way) or paid-for media (promoted with paid-for advertising). If it's paid-for media, you should also have an idea of the expected impressions.
2. Audiobooks
Audiobooks are usually charged by the length of the finished audiobook. So if the finished book is ten hours, the fee would be the agreed rate multiplied by ten. This usually allows for differences in reading speeds and the length and complexity of the book.
Audiobooks are a big commitment for artists and it's important to remember that preparing for an audiobook takes a great deal of additional time. Some artists or agencies may charge additional rates for recording in a home studio, as recording alone is much more time consuming.
3. Computer Games
Computer games are usually charged as a recording fee, with a one time buyout fee. The buyout can depend on the overall budget for the game. If multiple sessions are required, the buyout would only be paid the first time around.
4. Radio, Podcasts and Spotify
As with commercial work, radio, podcasts and Spotify fees are usually set as a recording fee plus usage. Usage for radio is based on station and length of use. Podcast and Spotify fees usually cover a shorter period and are often calculated based on expected impressions.
5. ELT and ADR
ELT (English Language Teaching) and ADR (Group Dubbing) are charged by the session. The minimum costs for these are agreed by Equity and are standard across the industry.
What Other Factors Can Affect Voice Artist Rates?
Some voice artists will always command higher rates – either because they are well known, or because of scarcity. If you require a famous voice, or a voiceover in a niche language, you can expect to have to compensate the artist accordingly.
There are also some less obvious factors that you might want to watch out for…
To-picture recordings are recordings that are timed to match a video. This is usually more technical and time-consuming work for the artist. Clients should be prepared for a longer recording time, or for an additional fee.
In the majority of cases editing is not included in the cost of a voiceover. The client usually receives the raw files after the session. If the recording needs a great deal of editing, or to be cut into smaller files, this should be communicated early on in the process so that the agent or artist understands the potential additional time involved.
Does OutSpoken Work Differently Than Other

Voice Agencies

?
In our experience no two voice agencies work in the same way! We pride ourselves on being one of the most cost-effective choices in the market, but we will never undersell or unfairly represent our artists. Our charges are as straightforward and transparent as we can make them, for both clients and artists. We will always follow industry guidelines and standard practices.
One of the key things OutSpoken offers is knowledge. Our agents have worked in the industry and alongside other voice agencies for many years, and understand the complexity of any discussion of fees. This means that we calculate our rates to represent our artists fairly, while also striving to offer attractive rates to clients.
What Should I Have Ready When Looking For a Quote?
All of the factors mentioned above can seem daunting, especially to someone new to the industry. So what information should you have when seeking a quote?
The number of scripts and wordcount

The usage (either the expected platforms, impressions, radio channels etc.)

The anticipated length of use

Any other relevant information (such as if it's being recorded to-picture)
From there, you will be able to calculate the fee using the rate card, or be able to get a more accurate quote.
If you have any questions at all, you are welcome to contact us here. We will be happy to answer any queries or provide quotes for projects outside the scope of our rate card.