What Are The Different Types of Voice Over?
What Are The Different Types of Voice Over?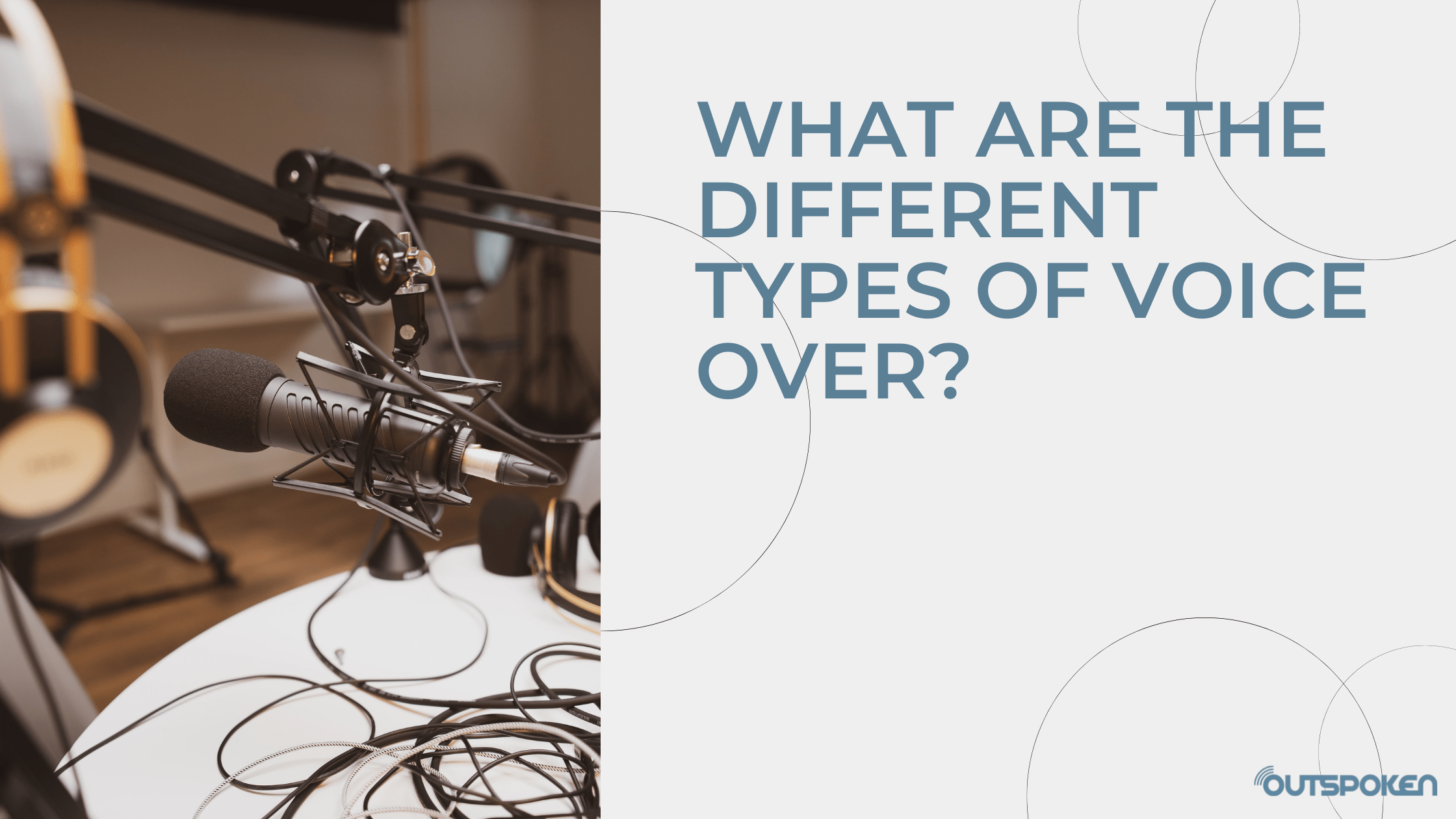 The voice-over industry has been growing steadily, encompassing new fields and projects and providing actors with exciting opportunities. The days when voice-over talent had to settle only for radio presentations and cartoons are over, as more performers find lucrative and inspiring careers lending their voice to various entertainment and corporate undertakings. In addition, geography is no longer a limitation. Artists can work on any international project from their home studios and on their own schedule.
If you are a voice-over actor (or looking for one!), it's good to educate yourself about how the industry is changing. The range of voices needed today is enormous. Audiobooks, podcasts and video games are looking for new and fresh talent, while corporations hire more voice-over actors to do their training and e-learning. But each type of job has specific requirements - so it's good to know what to expect for each. Let's go through the different types of popular voice-over projects and what they entitle.
Commercial
Commercial voice-over projects usually involve promoting a service or product. Voice actors record a form of advertisement that is then presented in media such as radio, television, or the web. Although this type of voice-overs have been popular for years, companies are now shifting towards a more personable and authentic tone for their branding. So sounding relatable and trusted while doing marketing promotions is paramount for these jobs. Commercial voice-overs are usually short, between 15 and 60 seconds, and typically pay higher rates.
Animation
The first thing many people think about when they hear about the voice-over industry is animation. Animation projects can include movies, series, web shows, and television productions. The medium has expanded widely in the last few years, so the small screen and film industry are always looking for good actors. A-listers voice many animation characters, but there's also plenty of space for new names and voices. A key for doing these jobs is to be able to perform many types of character voices.
Audiobooks
In the last couple of years, audiobooks have become a prevalent form of entertainment - especially as more authors self-publish their work. Numerous celebrities have lent their voice to titles, but the vast majority of audiobooks are done by voice-over artists - sometimes right from their home studios. Actors are often hired to play several characters, making audiobooks feel more dynamic. Clear and concise enunciation is critical for this type of voice-overs.
Corporate
Many companies utilize voice over for their corporate communications. For example, to onboard and train new employees, give in-depth tutorials, make internal announcements, and inform about products and services. Although not as desired as animation or commercial, this type of voice-over work offers a world of opportunity - with fewer risks!
GPS and Virtual Assistants
Virtual assistants and GPS systems have been using voice-over talent for years, and this segment continues to grow. The voices required for it tend to be those clearer and easier to understand. Other areas included in this type of work are text-to-speech, voice-user interface, and AI.
Trailers and Promos
Trailers give viewers a glimpse of what a full-length movie or series is all about. Back in the day, audiences were "sold" a movie or TV show - usually by a somewhat "aggressive" voice. Today, trailers tell the story of a project. They have also begun to expand and include more diverse voices. A trailer sets up a world, characters, and conflicts. And a voice-over artist guides the viewer through these elements.
Narration
A narration voice-over frequently describes something over images or motion pictures. These narrations tend to be made from the perspective of a character or third party. For example, many documentaries use narration to communicate their message. A voice-over for a documentary has to do several things, such as setting the tone and conveying the mood. Documentaries are more than retold facts, so their voices need to both tell a story and engage the audience.
Video Games
An ever-growing industry, video games have created numerous opportunities for voice over talent to thrive. Video games producers usually hire actors with extensive training who are not only used to speaking but also to shouting, grunting, groaning, etc. Thanks to motion capture, some voice actors are even using their bodies to enact movement, softening the boundaries between voice-over and physical performance.
Announcements
Announcements voice over are more prevalent than we might first think. For example, airports and train stations make continuous announcements about timetables, arrivals and departures, etc. While cinemas and theatres ask the public to turn off their phones, event presenters promote upcoming activities. Announcement voice-overs usually convey critical messages; they can inform, set the tone, or get an audience excited about what's to come. Actors in this type of work tend to be more authoritative and inspiring to get the public's attention.
Health and Wellness
This is a fast-growing and new type of voice-over work. Many meditation, inspiration and exercise apps and videos are looking for solid artists with a calming tone. Still relatively small in comparison to other markets, however, the health and wellness voice-over industry will only continue to grow in the coming years.
Finding the Perfect Type of Voice
The growing demand for voice-over artists has diversified the industry into new types of projects, and the blossoming of home studios has made it possible for actors to work remotely and at their own pace. While more traditional voice-over areas such as commercial and narration continue to evolve, new players join the industry. Video games, audiobooks, corporate communications, and wellness and virtual assistant apps are just some of the newish undertakings looking for fresh voices. Whether you're looking for actors for animations, games, trailers, promos or e-learning, OutSpoken can help you find the perfect talent for your project. Let us help you find the perfect voice!